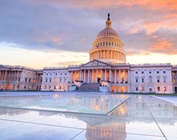 Our April edition of "Government Contracts Legislative and Regulatory Update" offers a summary of the relevant changes that took place during the month of March. Highlights this month include:
President Trump signs resolution revoking President Obama's Fair Pay and Safe Workplaces EO and implementing regulations
House of Representatives passes $578 billion defense appropriations bill
Congress's timeline to pass appropriation bills sparks fear of another government shutdown

This update will also be available in Contract Management Magazine, which is published monthly by the National Contract Management Association (NCMA).

To read the newsletter, please click here.