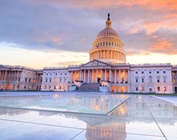 Our June edition of "Government Contracts Legislative and Regulatory Update" offers a summary of the relevant changes that took place during the month of May.
Highlights this month include:
President Trump issues executive order on strengthening the cybersecurity of federal networks and critical infrastructure
Trump administration sends long-awaited FY18 budget request to Congress
Senate introduces bill aimed at reforming the process by which federal agencies analyze and formulate new regulations and guidance documents
This update will also be available in Contract Management Magazine, which is published monthly by the National Contract Management Association (NCMA).
To read the newsletter, please click here.