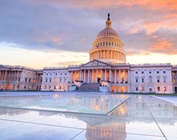 We are pleased to bring you the December edition of "Government Contracts Legislative and Regulatory Update," a summary of the relevant changes that took place during the month of November. Highlights this month include:
Compromise version of the National Defense Authorization Act for FY 2017 nears completion
FAR Council issues a final rule requiring representation of contractor greenhouse gas emission disclosures
BIS issues a final rule to remove arms embargoes against certain countries
DoD proposes a rule that would increase contractors' evaluated bid prices by including allowable IR&D expenses
This update will also appear in Contract Management Magazine, which is published monthly by the National Contract Management Association (NCMA).
On behalf of Dentons, we wish you and your loved ones a happy holiday season and a prosperous new year!
To read the newsletter, please click here
Government Contracts Legislative and Regulatory Update — December 2016